Blog Archives
TastetheFear.com contributor Buddah has provided a must-read report on last weekend's Fiery Food Festival in Columbus. Contains tons of great photographs: http://www.tastethefear.com/?p=1743

Permalink 0 Comments
Ever bookmark a site or web page only to return to it days or months later and find that it's been taken down? Have you wanted to take a working "snapshot" of a site as it appeared at a certain date and time? Something you want to look at that hasn't been stored in the Archive.org wayback Machine? Then BackupURL is just what you've been looking for.
Enter any website address into BackupURL and it will cache all elements of that page, including images and links, just as it appears at that very moment. BackupURL will allow you to access that page through a special URL even if the original page is temporarily down or even long gone.

Permalink 2 Comments
Jon Passow took his chilehead pal to his first Fiery Foods Festival this past weekend in Columbus, OH. Interesting reading:

Passow Takes A Chile-Head To The North Market – Part 1

Permalink 0 Comments
Here's another good, chewy jerky to sink your teeth into: Jersey Boyz Jerky Dorset Naga Dusted Beef Jerky. It is the Scovie Award winning jerky manufacturer's hottest offering, and is the spiciest dried beef jerky I've ever eaten.

Permalink 1 Comments
Loads of flavor and aroma are what Jake's Mesa Breeze Basil Lime Marinade brings to the table. One taste or whiff of this and even the most jaded mouths and noses will receive a stinging kick. It is very worthy of the 3rd Place win that it achived in the 2009 Fiery Food Challenge for "Best Marinade"...



Permalink 1 Comments
Click here to see the new TV commercial for the the 2009 National Fiery Foods and Barbecue Show in Albuquerque, New Mexico.


Permalink 0 Comments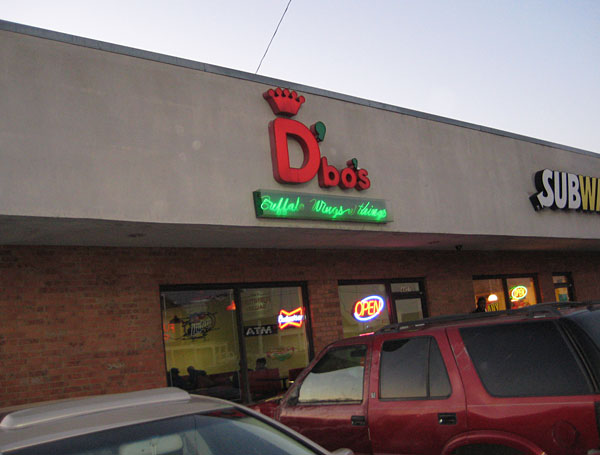 D'Bo's Buffalo Wings n' Things
4407 Elvis Presley Blvd, Memphis, TN, 38106
Started in 1990 by entrepreneur David Boyd and his wife, D'Bo's Wings n' Things has expanded to four locations in the Memphis, TN metro area and has garnered a reputation as one of the best chicken wing joints of the South. Naturally, while staying in the area I had to try D'Bo's food for myself...
Permalink 5 Comments



If you're a fan of hot and spicy foods and are in Columbus, Ohio or Albuquerque, New Mexico over the next two weekends, then you've GOTTA see one of these gatherings.
The 6th Annual Fiery Foods Festival will take place this Saturday, February 21, 2009 at the North Market in Columbus. There's plenty to do - view and purchase a broad assortment of hot sauces and fiery foods, attend chili making and hot wing-eating contests, see cooking demonstrations and lively music, Oh, yeah, and visit with sauce-maker John "CaJohn" Hard. For more information, go to the North Market website.
Albuquerque will host he granddaddy spicy foods show of them all, the 21st Annual National Fiery Foods & BBQ Show the weekend of February 27 - March 1, 2009 at the Sandia Resort and Casino. This event features 200+ exhibitor booths filled with more than 1,000 different products. The show attracts more than 14,000 trade and general public attendees from all over the world. If it's happening in hot sauce or the going on in grilling, then most likely going down here. Go to the Fiery Foods site for the lowdown.
Unfortunately I won't be attending either show, but I'll try to link to as many online news updates as I can.
Permalink 0 Comments
Able to store 4GB of data, this cool little USB 2.0 thumb drive is shaped like a red chili pepper. The hot n' spicy flash drive supports Windows 2000, XP and Vista, and has a hard rubber casing. Awesome! Run and get yours here before they're out of stock.

http://www.sourcingmap.com/red-capsicum-4gb-usb-flash-drive-storage-memory-stick-p-26938.html

Permalink 5 Comments
Here's more hysterics from the global warming alarmist community. Why does this propagandist nonsense continue to go relatively unchallenged? What's more ridiculous is that this Pelletier guy is a well-known vegetarian author who is part of the vegan agenda to end meat eating, the leather industry and cattle ranching.
From http://www.breitbart.com/article.php?id=CNG.e36a67d49c1127a8c17cc38ed4a4c27e.211&show_article=1:
"When it comes to global warming, hamburgers are the Hummers of food, scientists say.
Simply switching from steak to salad could cut as much carbon as leaving the car at home a couple days a week.
That's because beef is such an incredibly inefficient food to produce and cows release so much harmful methane into the atmosphere, said Nathan Pelletier of Dalhousie University in Canada.
Pelletier is one of a growing number of scientists studying the environmental costs of food from field to plate.
By looking at everything from how much grain a cow eats before it is ready for slaughter to the emissions released by manure, they are getting a clearer idea of the true costs of food.
The livestock sector is estimated to account for 18 percent of global greenhouse gas emissions and beef is the biggest culprit.
Even though beef only accounts for 30 percent of meat consumption in the developed world it's responsible for 78 percent of the emissions, Pelletier said Sunday at a meeting of the American Association for the Advancement of Science.
That's because a single kilogram of beef produces 16 kilograms carbon dioxide equivalent emissions: four times higher than pork and more than ten times as much as a kilogram of poultry, Pelletier said.
If people were to simply switch from beef to chicken, emissions would be cut by 70 percent, Pelletier said....
Permalink 0 Comments
The entire line of Jake's Barbecue Sauces has racked up some impressive awards despite being in the spicy food biz for only six years -an International Taste and Quality Awards Superior taste award and several Fiery Food Challenge 1st and 2nd place wins. Upon tasting Jake's Medium and Inferno sauces I must confess that both condiments deserve every single prize and accolade ever given to them. They're that good.




Permalink 0 Comments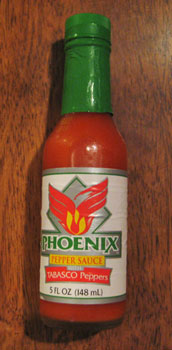 Here's a nice, back to basics hot sauce that would do well in a variety of situations and is relatively cheap - Phoenix Pepper Sauce with Tabasco Peppers. It is an ideal candidate for a table sauce when the bigger brands such as Tabasco Brand, Frank's Red Hot, or Crystal hot sauces aren't available.






Permalink 1 Comments
Cow Girl Chocolates produces some of the best gourmet sweets on the planet. What separates this Idaho-based company from other chocolatiers is the presence of chile peppers in most of their offerings. I've said it many times before and I'll say it again: the combination of spice and sweet is the most underused food pairing in all the culinary world. They just go too well together. There's more than just hot cinnamon candies or a mouth-warming mole sauce; there's an entire universe of hot desserts and snacks just waiting to be blown into the mainstream. Cow Girl Chocolates have tapped into this concept and have hit an out-of-the-park, grand slam home run with it.

Permalink 1 Comments
Six-string coolness. This guy taps and slaps on an acoustic guitar. Enjoy:


Permalink 0 Comments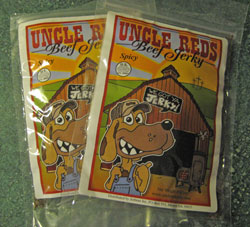 Based out of Monroe, Georgia, Uncle Red's Spicy Beef Jerky is another fine all-natural beef jerky manufacturer that offers both regular Original and Spicy versions. I'm reviewing the Spicy jerky this time out.





Permalink 0 Comments