Blog Archives


If you hadn't seen this link on one of the social media sites I plugged it on, here it is for all of you to enjoy - photos from Day Two of the most recent ZestFest!

Permalink 2 Comments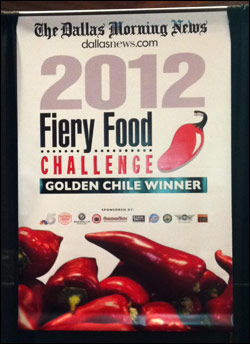 Read it here first: here's the complete list of Fiery Food Challenge winners from ZestFest 2012! Big thanks go to FFC coordinator Judy Fuhrhop for providing the information.

Here are the winners...

Hot Sauce: Chipotle - Consumer Ready
1st CaJohn's Fiery Foods Company - Happy Beaver
2nd The Karma Sauce Company - Smokey Karma Sauce
3rd Duke & Baron's All American - Smoke Blueberry Chipotle

Hot Sauce: Fruit Based - Consumer Ready
1st Jungle Heat - Mango Heat
2nd Captain Thoms' Chile Pepper Company - Captain Thom's White Zombie
3rd Red Hawk Premium Peppers - B3 Hot Sauce

Hot Sauce: Habanero - Consumer Ready
1st Sizzlin Sauces, LLC - Spittin' Fire Hot Sauce
2nd....

Permalink 17 Comments
It's almost here! I'm starting my 2012 festival and event season this coming weekend by sojourning down Texas way to ZestFest. The three-day event is happening at the Irving Convention Center in Irving, Texas this Friday, Saturday and Sunday, January 27 -29, 2012.

I will be arriving in the Dallas/Ft. Worth area on Saturday morning to see friends old and new at the show, and to witness what is good in the world of fiery foods and BBQ. I'll also partake in the Intensity Academy Lollipop Lick-A-Thon, a contest where participants must lick and suck on a 1.8 million Scoville Heat Unit sucker only it's completely dissolved. My good friend, chilehead extraordinaire and hot sauce collector Vic Clinco, has been the lolly-licking champ four times, and is looking for his fifth victory. Can I or someone else best him? We'll find out...

The winners of the...

Permalink 3 Comments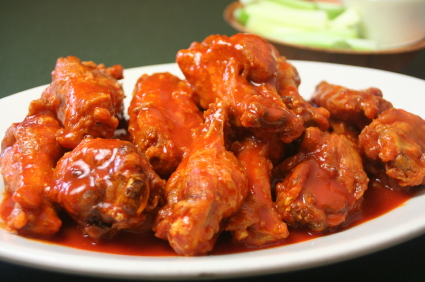 We thought it would be a great service to the chilehead community to help our small business friends out a little and at the same time get some good sales to encourage some extra purchases for the big game of the year. The companies below are offering some very nice specials to you to help hoist your football gatherings to a new level of Super. Check them out, and give them some love back. They can always use some extra business during the cold Winter months. Thanks to everyone that participated!

All Discounts/Sales below are US only because of shipping costs. The Peppermaster brand is from Canada though, so their rates will differ...


Permalink 4 Comments
This time out I review Red Hawk Premium Peppers Hot Sauces - Strawberry Scorpion Sting, B3 Bhut Jolokia Banana Blueberry, and Grounds For Divorce Hot Garlic Sauce.
Permalink 12 Comments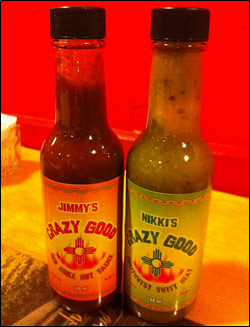 Crazy Good Sauces/Tiger Blood LLC owners Jim and Nikki O'Brien currently reside in the state of New Mexico - as evidenced by the Land of Enchantment's sun on the Crazy Good hot sauce bottle labels, yet I was pleased to learn that they have ties to St. Louis, especially in the case of Jim who grow up in the Gateway City, and also did chef duties here, among other U.S. cities. Not a bad little connection to have there to this humble little reviewer.

But I cannot have any bias towards regionality, as any product I'm testing out has to taste great no matter what part of God's green Earth it comes from. Two of the elixirs the couple produces - Nikki's Crazy Good Southwest Sweet Heat and Jimmy's Crazy Good Red Chile Sauce - are now under my review microscope. Let's see how it fares...



Permalink 2 Comments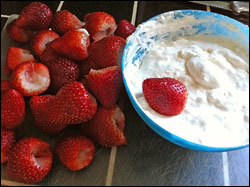 Let's take a short break from the screamin' capsaicin-induced pain and the bold flavors of spice and BBQ, and instead rest on the tasty, soothing side of the tracks. Here is one of the simplest things you can whip up on the kitchen when you're hankerin' for an addictive, sweet snack or appetizer: my marshmallow cream cheese dip.

There's really not much to it. All you'll need are:

1 8 oz. package/container of cream cheese
1 7 or 8 oz. jar of marshmallow creme
Various spices (optional)
Fruit for dipping...

Permalink 5 Comments
A few days prior to me losing access to the internet, my good friend Vic Clinco tipped me off about the new Death Sauce iPhone/iPad App from Blair's Sauces and Snacks. It's been a long, long weekend without me being to get online without my phone, and now I can finally write about it! Well, instead of me expounding on the topic, I'll just reply on Vic's eloquently written review of the app, which was also posted earlier this weekend on Peppers and More...

The app is kinda basic right now, Blair says it's the version 1.0 and they are already working on the next version and we can expect a whole lot more with it's update. I'm pretty excited. So what is it you ask... It's a Blair's Reserve collector's dream come true in a phone app. Have you ever longed for a custom, personalized reserve bottle from the man?? Well now you can do it!! I'm going to take you on a tour of app, for those of you with an iPhone or iPad, feel free to follow along. And for those that don't, hopefully this will give you a good feel of what is it. I do know also that they are in the works on an Android app now and it shouldn't be to long before you get get the app there as well....



Permalink 2 Comments
Just a few weeks ago I unveiled what I thought were the top picks for spicy products of the previous twelve months. Although I did offer honorable mentions AKA runners-up for a few of the categories, I only offered what I thought were the numero unos and not much else.

Last night on the BBQ Central Radio Show I revealed to host Greg Rempe and guest Billy "DoRag" Carroll how I would rank the top 5 in the categories of best barbecue sauce and best barbeque rub for 2011. You can download or listen to the January 10, 2011 episode (my segment is approximately 74 minutes into the show) or you can read my choices below, which are listed in reverse order from #5 to #1...


Permalink 5 Comments
If you've never heard of Kramer's Gourmet Foods, then you're not alone. According to their website, "In 2011, Kramer's Gourmet Foods was born! On November 15th, 2011, Kramer's hit the market with their specially blended Chicken Wing Rubs! These Texas inspired spice blends are designed specifically for GRILLED WINGS! But it's pretty much good on everything!"

It's commonplace for rubs and seasonings to be created for individual meats, such as chicken, pork or beef, but outside of ribs it can be rare for them to be specialized for specific body parts such as chicken wings. Very interesting. Kramer's sent bottles of their Easy Pickin', Finger Lickin' and What Was I Thinkin' for me to test out and give you my humble opinions.

Permalink 1 Comments
In this episode of the Weekly Firecast, I give you my first impressions of Danny Boy's Hot Sauce Co.'s The Tear Jerker Original Ghost Pepper Sauce. For more information, go to http://www.dannyboyhotsauceco.com.



Permalink 4 Comments
My friend Jim Duffy Refining Fire Chiles recently appeared on a morning show segment of KUSI News from San Diego and chatted about all things spicy:
Permalink 0 Comments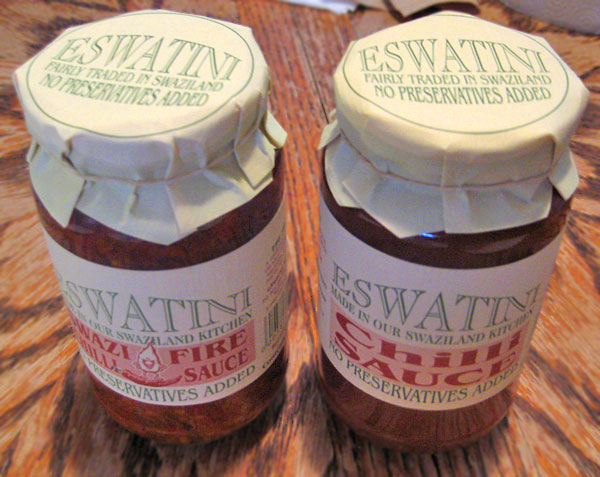 Produced and bottled in Swaziland, Africa, Eswatini Swazi Kitchen's Chilli Sauce and Swazi Fire Chilli Sauce are among the most exotic spicy food condiments I've ever eaten. Yet, they are comfortably similar to Americanized sauces.


Permalink 2 Comments
McDonald's McRib is an item that debuted in 1985; and contains a bumpy, rectangular, processed and pressed pork patty that is drenched in BBQ sauce, is covered onions and pickles and is held together in an elongated bun. Currently McDonald's wheels out the sandwich on a temporary basis once per year. Many think that it's a guilty treat. On the flip side, the McRib has taken many slings and arrows from both barbecue purists and anti-fast food folks alike.

What is YOUR take on the popular sandwich? Let your opinion be known below...




Permalink 8 Comments
The following are items and companies I've chosen as featuring the best that have been released or that I've encountered for the first time during the 2011 calendar year. To qualify, this product either had to be released after January 1, 2011 or I would have tasted it for the very first time in the past year. Believe me, there were dozens of worthy sauces, seasonings and food enhancers I would have loved to include and so many product manufacturers that deserved a mention. But I had to narrow it down to the creme de la creme and give the "Scottvies" (with apologies to Dave DeWitt) to my top choices in each category.
Please bear with me as I speak with an upper respiratory infection. I hope my scratchy voice isn't too annoying to listen to, especially as it gets later into the video.
I've deviated slightly from the past (but not too much) from the tops in these categories:
• Hot Sauce
• Wing Sauce
• Salsa
• BBQ Sauce
• Condiment
• Seasoning/Rub
• Spicy Snack
• Sweet N' Spicy Product

Like last year, I announce who I think is:
• New Manufacturer of the Year
• Product of Year

And new to this year, I'll tell you who I thought was:
• Overall Manufacturer of the Year
I've also introduced my first award for Outstanding Contributions to the Fiery Foods World. As I mention in the video, this award may be named in honor of someone in the future.
Permalink 15 Comments