Blog Archives
Coming Soon! Please view the video for more info...


Permalink 7 Comments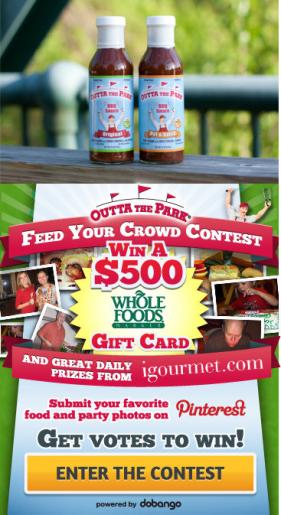 Outta The Park BBQ Sauce presents the Feed Your Crowd Contest, where YOU have the chance to win a $500 Whole Foods gift card plus daily gift cards from igourmet.com and of course, barbeque sauce from Outta The Park!

What do you feed your crowd? Submit up to five of your favorite food and feast pictures from family gatherings, parties and other events to our contest board on Pinterest.com. Just upload your image through the form above and ask your friends to go vote for your entry by hitting the "like" button on your photo on Pinterest!

Keep checking Outta the Park's leaderboard to see what rank you are in, and don't forget to go to Outta The Park's board on Pinterest to vote on your favorite entries! At the end of each day, whoever has the most likes receives the daily prize. Whoever earns the most likes August 15, 2012 through August 24, 2012 will win the grand prize of a $500 Whole Foods gift card. That's more than enough to feed a crowd!

Click to enter!


Permalink 1 Comments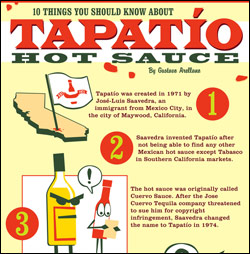 Courtesy of OC Weekly (a website chronicling the happenings in Orange County, California), here are some facts and figures for Tapatio Hot Sauce in handy-dandy infographic form:



Permalink 3 Comments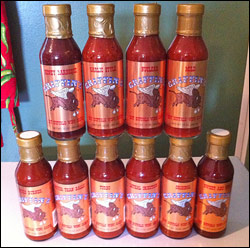 I don't know much about Griffin's Wing Sauce, other than the fact that it's owner, Mike Griffin, hails from Levittown, Pennsylvania. He contacted me a few months back and inquired about doing a product review for all 10 of his sauces. His website, http://www.griffinswingsauce.com, doesn't provide much in the way of info, either, other than proclaiming that Griffin's Wing Sauce has been around for a while, "burning mouths for 25 years".
I finally got a quick chance to meet Mike at this year's Peppers at the Beach, and he informed me that he was in the process of updating his bottle labels (more on that later), and I also got a chance to taste a few of his wing sauces before I was able to open the review products at home that he had shipped me. Even though at the time I sampled the sauces by themselves with the aide of actual chicken wings, I thought they had some promise.
Finally, about a month later I fried up a gargantuan amoutn of chicken wings at home and put all ten of Griffin's wing sauces to the test. Milk and unsalted crackers were eaten between each one to help better judge each sauce on its own...

Permalink 3 Comments
I'm posting this for my good friends Al "Buddah" Goldenberg of I Love It Spicy! and Carol Borge of the Houston Hot Sauce Festival.

If you're a salsa maker, you'll definitely want to get in on this!
We are sponsoring to raise money for the Snowdrop Foundation. The only thing different is that I am buying another 1st place trophy and awarding it to the best fruit-based salsa. I thought with the number of entries we have all ready, it would only be fair to divide the salsas somewhat. I could create several categories, but I do not want to dilute the contest too much. In the end, I want to award some great salsas and give them their recognition. So we will divide the salsas at the show into 2 categories- Fruit-Based & Everything Else. All the same rules apply. If you are attending the show, you still must alert me to what you are entering in the contest prior to the September 1st deadline. Email would be the best way for both of us to keep a record of your entry just in case there is an issue. PLEASE READ THE RULES BELOW! You still have more than 3 weeks to get them mailed out in time. If you want to help with the research and assistance for children's cancer, then you would be helping the Snowdrop Foundation help those who need it. You do not have to enter the contest to help this worthy charity. So give if you can.
In cooperation with promoter extraordinaire Carol Borge...

Permalink 0 Comments
I know that dozens of cuisines, nationalities and ethnicities encompass the "Asian" tag, so to say that a select few flavor profiles or styles of food summarize Asian would be a grave injustice to some of the world's most varied dishes. That having been said, do you have have any go-to Asian style sauces that you can't live without? Here are a few of mine:

Captain Thom's Thai Monkey Sauce - Imagine the best soy sauce, teriyaki sauce, peanut sauce, hot sauce, and wasabi you've ever eaten in your life, all rolled into one magical little liquid. That's the beauty of Thai Monkey. From Chinese food to sushi to chicken wings, the applications are endless, and my...

Permalink 16 Comments
Spicy versions of your favorite snacks are about as ubiquitous as air nowadays. And the options are expanding seemingly exponentially, to where it's hard to get a grasp on everything that's available - so much that I've given up on trying to keep up on everything. That having been said, I will still review the occasional mass-market snack product.

This time out it's Jack Links Buffalo Chicken Style Big Dippers Links, which contain buffalo-style chicken jerky links, along with cups of their Buffalo Sauce and Ranch Dressing, both made for dipping. Sounds like an interesting concept. Let's see if this is indeed a fine, guilty pleasure munchie...


Permalink 4 Comments
CaJohn's Fiery Foods (headed by John "CaJohn" Hard) not only plays with some of the hottest chile peppers in the world, but more importantly are able to expertly utilize the flavor of the chiles to make a great tasting sauces, salsas and seasonings. While I certainly won't kiss CaJohn's ass - I told him that his limited run of Pumpkin Salsa wasn't a good product - he fact remains that he has an incredibly high batting average when it comes to releasing quality spicy products to the masses.

Within the past year CaJohn has introduced his Trinidad lineup of products, which have employed the world's hottest chile pepper both in taste and in hiccup-inducing heat. Now, he originally used two variations of the Trinidad Scorpion peppers - the Guinness Record-holding Trinidad Scorpion Butch T and the newer and even hotter Trinidad Moruga Scorpions - in his Trinidad brand because of similar heat, flavor, and availability of pods (from what CaJohn has said, it is my understanding that are probably more Morugas than Butch Ts). So either way you look at it, these hellish products contain the current hottest the chile pepper world has to offer.
I'm going to cover CaJohns Trinidad Moruga Scorpion BBQ Sauce this time around. Let's fire up the grill and see if this Trinidad sauce can light a fire in my mouth!

Permalink 7 Comments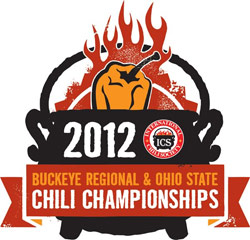 Although I reside in the St. Louis, Missouri metro area, I do sometimes spread news about regional events that my chilehead friends take part in elsewhere in the country.

One such event will be held in Westerville, Ohio (a suburb of Columbus) this Labor Day Weekend - Sept 1 & 2 from 10:00 am - 6:00 pm daily. CaJohn's Fiery Foods is proud to host both the Buckeye Regional and Ohio State Chili Championships - a two day purse of $3800. These events are qualifiers for the ICS World Chili Championship held in October in West Virginia. Along with the ICS events there are several opportunities for the public to participate - there are amateur chili contests daily, restaurant and community chili cook-offs as well as an opportunity to...

Permalink 0 Comments
Once again we give you a "Caption This" Photo Contest! The rules are simple: whoever comes up with the best caption wins a bottle of C'est Bon Cajun-Q BBQ Sauce from none other than Cajun Heat! I'll decide who has the best caption. You have until 11:59pm Central Time this Friday, August 10th to post your entry in the comments section below (comments made on social media sites such as Facebook and Twitter are not eligible). Be funny, be creative, so let's hear what you have to say, folks...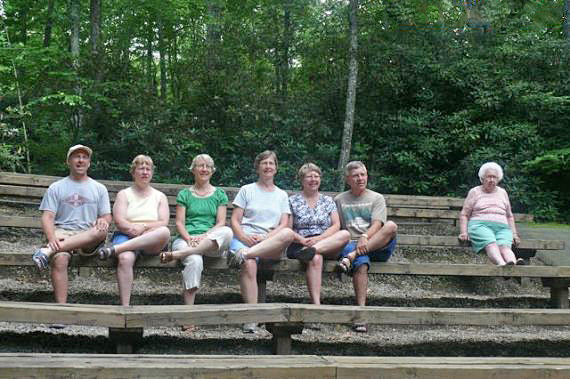 Permalink 13 Comments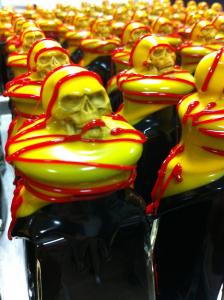 HIGHLANDS, NJ -- (Marketwire) -- 07/20/12 -- Hot Sauce legend Blair Lazar's hot sauce and snack company was founded in 1989, by the then 19 year old, and funded with a mere $550 in tips earned from his duties tending bar on the Jersey Shore. Since then, Lazar has turned Blair's Sauces & Snacks into a global phenomenon of all things fiery hot. Lazar's recent appearances on CBS This Morning with Charlie Rose, and the always well-attended chili head gathering, The Fiery Food Show in New Mexico, have propelled him to rock star status amongst legions of spicy food aficionados around the world, and made him the go-to guy for extremely hot delights in the specialty food business. And business is good...

Permalink 2 Comments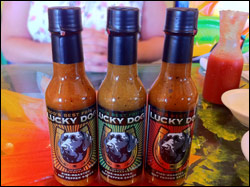 Sonoma, CA-based company Lucky Dog Hot Sauce is what Scott Zalkind started after his 6-plus-year hobby began to flourish. Zalkind fire-roasted chile peppers and garlic and combined them with other fresh ingredients into, in his words, "thick, savory and extremely versatile hot sauces" (that sounds good already!). He doesn't use pepper mash at all; and although he employs a bit of dried chiles, most of the flavor is derived from the unique, quasi-smokey tones of roasted peppers.

I was eager to try these because of that fact. So were my friends Brian and Marilyn Meagher of Hot Sauce Daily, who agreed to post a review of their own of Lucky Dog Hot Sauces. So, after you read my take on these fiery products, I urge you to jump on over to their website to read what they have to say about Lucky Dog...

Permalink 6 Comments
Okay, this next stop in the my Chevy STL Keys promotional tour is admittedly not one that's exclusive to St. Louis. Yes, I have succumb to visiting an establishment that is a chain with 230 locations entrenched throughout a good chunk of the U.S.. The place to which I'm referring is Jason's Deli, and I've been meaning to drop on in their Chesterfield, Missouri location for some time now, and I figured this would be as good of a time as any to see what they're about.
Through the proverbial grapevine, I've heard many good things about Jason's Deli. They're a large, expansive eatery that offers sandwiches, soups, salads, wraps, pasta, potatoes and more. They're trying to make a name for themselves to the health-conscious crowd by featuring sub-menus for both vegetarians and those looking for gluten-free fare. I'm in neither of those later classifications, so I'm just looking for some good old fresh food on which to chow down...

Permalink 2 Comments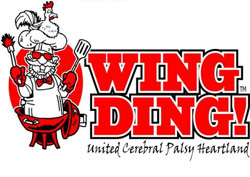 FOR IMMEDIATE RELEASE

Date: July 18, 2012

Contact: Ashlee Johnson, Director of Marketing and Development
PHONE: 636-779-2269
Email: JohnsonA@ucpheartland.org

Contact: Erin Wheeler Boyle, Asst. Director of Development
Phone: 636-779-2253
Cell: 314-265-9960
Email: BoyleE@ucpheartland.org

UCP HEARTLAND 2ND ANNUAL WING DING IN ST. LOUIS TO BE HELD ON
AUGUST 23RD, 2012 AT QUEENY PARK (GREENSFELDER ARENA)
Local restaurants will compete to see who has the "best chicken wings" in St. Louis at the 2nd Annual Wing Ding St. Louis. This year's event will be from 6:00 pm until 9:00 pm, August 23, at Queeny Park (Greensfelder Arena)!
This year's event will feature 20 restaurants from around the St. Louis area that will join together to compete for the title of the best chicken wings. Area restaurants will bring their wings to feed hungry connoisseurs and a panel of celebrity judges. For advance tickets call (636) 779-2253, or visit www.ucpheartland.org/events to purchase tickets online. Tickets are $25 per person for wings and two beverages, OR $50 for VIP which includes wings, unlimited drinks and a special "happy half hour" from 5:30 to 6 p.m. For general admission, doors open...

Permalink 2 Comments
My second stop on my Chevy STL Keys promotional jaunt was one that was more local and personal to me.

I finally had the opportunity to blog about The Malt Shop in Fenton, so here it is.

This is a small "hole in the wall"-type place that I had been coming to since I was a kid. It's located in a building that it shares with an insurance agency, and has been a small legacy to Fenton-area folks since it opened in back 1973.
There may be other chains with a multiple mile radius (Dairy Queen, Baskin Robbins); but for good, old-fashioned ice cream on a hot summer day, nothing can beat The Malt Shop for pure quality!
They offer an enormous line of simple ice cream, shakes, malts and Hawaiian Ices, plus simple fast food. For a place to stop at after church, after an afternoon ball game or just after a day cruising and shopping around, everyone in your family is bound to find something they like.
I'm particularly fond of the raspberry malts. I swear, the owners of The Malt Shop must have stumbled upon a centuries-old secret for insanely good "drinkable ice cream" (a broad term I give shakes and malts), because this is...

Permalink 1 Comments